Meet Gilda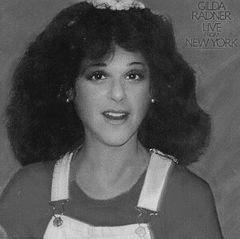 Gilda Susan Radner was an American comedian and actress, best known for her five years as part of the original cast of the NBC comedy series Saturday Night Live. Radner, who died at 42 of ovarian cancer, became an icon for public awareness of both detection and treatment of the disease.
Biography
She was born on June 28, 1946 to Jewish parents, Herman Radner and Henrietta Dworkin, in Detroit, Michigan. Her mother named her Gilda after the title character played by Rita Hayworth in the movie Gilda. She grew up in Detroit with a nanny, Elizabeth Clementine Gillies, whom she affectionately called "Dibby" (and on whom she based her famous character Emily Litella) and an older brother, Michael. She was very close to her father, Herman, who died of brain cancer when she was 12 years old. Radner was enrolled at the University of Michigan, where she began her broadcasting career as the weather girl for college radio station WCBN, but dropped out in order to follow her then-boyfriend to Toronto, Canada. There she debuted in the 1972 production of Godspell with fellow Saturday Night Live actor John Belushi and afterward joined the Toronto Second City comedy troupe.
Radner was a featured player on the National Lampoon Radio Hour, a comedy program syndicated to some 600 U.S. radio stations from 1973 to 1975. Fellow cast members included John Belushi, Richard Belzer, Chevy Chase and Bill Murray.
She first rose to widespread fame as one of the original "Not Ready For Prime Time Players" on Saturday Night Live. Radner was the first actor cast for the show. Between 1975 and 1980 she created such characters as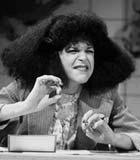 Roseanne Roseannadanna, an obnoxious woman with wild black hair who would tell stories about celebrities' gross habits on the show's Weekend Update news segment. Radner's SNL characters also included

"Babwa Wawa", often misheard as "Baba" Wawa, a spoof of journalist Barbara Walters, exaggerating the latter's apparent difficulty at enunciating the letter "R"; and

Emily Litella, an elderly woman, wearing an old sweater, who gave angry and misinformed editorial replies on Weekend Update on topics such as "violins on television", the "Eagle Rights Amendment", and "protecting endangered feces." Once corrected on her misunderstanding, Litella would end her segment with a polite "Never mind." Her comic timing and gifts at physical comedy were often compared to Lucille Ball.
Radner projected an innocence into her lines that wouldn't have worked with other performers. "I guess in France, you don't order french fries," she said in one routine. "You just order fries. They'll know." Radner had a knack for combining extreme physical comedy with soft, caring characters that were easy to love. In 1979, incoming NBC President Fred Silverman offered Radner her own prime time variety show, which she ultimately turned down. That year, she was one of the hosts of the Music for UNICEF Concert at the United Nations General Assembly.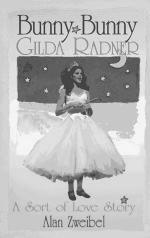 In her final season of Saturday Night Live, Radner appeared on Broadway in a successful one-woman show that featured racier material, such as the humorous song "Let's Talk Dirty to the Animals". This show was captured on film in 1981 as Gilda Live! and co-starred Paul Shaffer and Don Novello. The play was also released as an album recording -- the play was a qualified success, the film and album were failures. During the production, she met her first husband, G. E. Smith, a musician who also worked on the show whom she married in a civil ceremony in 1980.
Gilda met her second husband, Gene Wilder, on the set of the Buck Henry film Hanky Panky between 1981 and 1982. She described their first meeting as "love at first sight." She divorced Smith in 1982 and went on to make a second movie, The Woman in Red, in 1984 with

Wilder. The two were married on September 18, 1984 in the south of France and made a third movie together, Haunted Honeymoon, in 1986.
After becoming severely fatigued and suffering from pain in her upper legs on the set of Haunted Honeymoon, she was diagnosed with ovarian cancer in October,1986. Even with Wilder's support, she suffered extreme physical and emotional pain as a chemotherapy and radiation patient. Eventually, she was told she had gone into remission, and she wrote a memoir about her life and struggle with the illness, called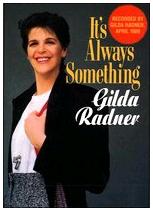 It's Always Something. However, she had a recurrence a few months later and underwent multiple procedures to try and get back into remission. She finished the book just seven months before her death in 1989.
In 1988 she guest-starred as herself on It's Garry Shandling's Show to great critical acclaim. When Garry asked her why she had not been seen for awhile, Radner replied "Oh, I had cancer. What did you have?" Shandling's reply: "A very bad series of career moves." She planned to host an episode of SNL that year but a writers' strike caused the cancellation of the rest of the season. She wanted to host the next year, but in May, 1988, doctors found that her cancer had recurred and had spread to other areas of her body. She was admitted to Cedars-Sinai Medical Center in Los Angeles, California on May 17, 1989 for a CAT scan. After fearing she would never wake up, she was given a sedative and passed into a coma. She never regained consciousness. Gene Wilder said, "I stayed at her side late into the night, sometimes sleeping over. Finally a doctor told me to go home and get some sleep. At 4 am on Saturday, I heard a pounding on my door. It was an old friend, a surgeon, whole told me, 'Come on. It's time to go.' When I got there, a night nurse, whom I still want to thank, had washed Gilda and taken out all the tubes. She put a pretty yellow barrette in her hair. She looked like an angel. So peaceful. Two hours later, Gilda was gone." On May 24, 1989, Gilda was buried at Long Ridge Union Cemetery, Stamford, Fairfield County, Connecticut. Her dying wish was to create a place where people with cancer could go to receive support. Through the efforts of Gene Wilder and Gilda's therapist, Joanna Bull, the first Gilda's Club was opened in New York City in 1995.
Did You Know?
FACT: Gilda's Club Seattle raises approximately 75% of their operating funds from individuals who believe in our mission (of course, this does include a few celebrities!). The balance comes from corporations and foundations who support our program.

MYTH: Gilda's Club gets a lot of money from celebrities.
Join Gilda's Club
Membership is Free!
Click the button below to learn about all the benefits you'll receive.
Become A Member